Xerolage #46    $5
 
http://xexoxial.org/is/xerolage46/by/nico_vassilakis
$5.00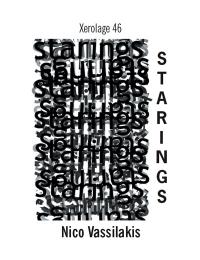 STARINGS
This is what an alphabet does when the books are closed and the letters are off duty. The characters cavort, mate, replicate, coagulate, instigate, insinuate, explode... Free of responsibility, the alphabet dances.

- Rosaire Appel

In Starings we enter into a second universe (macro- and microcosmic at the same time), where letters and punctuation marks are every bit as real and hallucinatory, transitory and unerasable creatures as stars, planets, grains of interstellar dust, microorganisms or atomic particles are in the first one. They multiply, interweave with each other and with light and darkness, open frequently like a zip and what we have inside are themselves again in a different shape. Their presence is so intense that they (and each contrapuntal pair of their constellations) would start to speak to us immediately — if only letters could do that. Listen. This is meaning in the moment of birth.

- Márton Koppány

Nico Vassilakis' STARINGS occupies us by combining radically different registers of meaning — violence and play, destruction and creation, character and scatter. And we are occupied when we enter each image, as in taken over or filled up, concentrate on or in, we have control or have lost control of meaning here. Not that there need be an either/or in these pages. There is only is. So dwell a while.

- Jenny Sampirisi

Most interesting composition results from the mental equivalent of crossing one's eyes, tuning to a place between. Vassilakis hits a sweet spot with the dynamic works in Starings, their textures, accumulations, and rhythmic repetitions creating instances of chaos and clarity, recognition and refusal.

- Lisa Radon
from the introduction:
Dear Alphabet's Demur,
You take lines and shapes and given possibilities and make alphabet. You use it to make sounds and you map out trajectories of thought. You make names and call your children by them. This is done everywhere. And it's been done for thousands of years until you became bored with this method — until you surrounded and suffocated yourself with these products of your creation.
You go through ubiquitous, unrelenting text — you are altered by text, by its message. You've had to alter how you see. You are forced to alter text itself. You stare your way through words and into middles of words. You resolve the noise of your eyes. The information you see, you seek, to find another nature therein.