Three Sequences
japonaiserie | Letter Sett | Fibre Optics
http://xexoxial.org/is/xerolage50/by/bob_cobbing
from Lawrence Upton's introduction:
It is almost certain that these images have never been published before. Clearly, Cobbing valued the works: they are documented as to title and date in his hand-writing, on good quality laser prints; and he took care to preserve them.
The format is A4, a format, with A3, that he worked with throughout his last quarter century. Some works use other sizes, particularly B5 and B6; but generally that was achieved by trimming or photo-reduction. He composed usually on A4 and A3. Until the early 1980s, he had also used quarto (8 inches x 10 inches) and foolscap (17 inches x 13.5 inches), sometimes other "imperial sizes". In those days, his main writing and copying medium was the ink duplicator, if we exclude sound recording media. From 1984, he was a photocopy boy.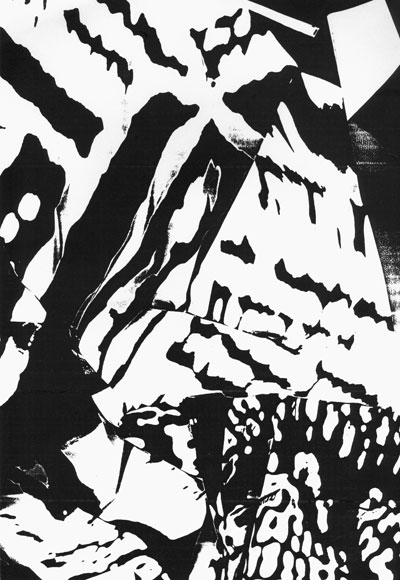 His image-composing methods were various. The ink duplication process provided multitudes of potential monotypes as by-product from ink-wet wax stencils. In both ink-duplication and photocopying (1984+), knowledge of how scanning transformed images played a large role, with and apart from papier collé. Photocopying also copes with moving objects on the glass platen.
A Cobbing original may tend towards the intangible. Output qualities, I should say "properties", varied depending where one was in the monthly copier maintenance cycle and where one was on the timeline towards machine obsolescence. He might reserve image(s) as print master(s) for future use while the rest of the print run was published. Then, at reprint, the print master might not be to hand and a copy was used. That copy might or might not be generationally identical to the missing master; or the copier might or might not do justice in some eyes to what it was copying. Yet, if the result satisfied Cobbing, simultaneously fastidious and tolerant, then that was that.
Bob Cobbing: and the book as medium; designs for poetry